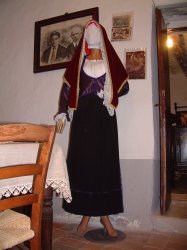 "Muccadori o sa Mantilla" Head covering: garment of many different shapes that easily identifies the zone in which it was made, the most common forms are triangular, as a headband or mantle.
"Sa Camisa": Blouse of "trambichi", a white cloth similar to linen, elaborately embroidered on the breast, cuffs and collar, with gold filigree buttons.
"Su giponi" (jacket): This garment is made from silk or velvet while inlayed with canvas, usually of a bright red or blue whilst if coloured black, it signifies a death in the family. Inside, it is stitched with ribbon and on the outside it is embroidered.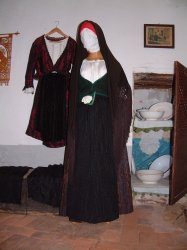 "Su Sciallu" (shawl): the material used is wool, embroidered or plain, it is a cloak worn about the shoulders.
"Sa fardetta" (skirt): the skirt can be of velvet or silk and is very long.
"Su grembiali" (apron): a material that covers only the frontal part and is tied to the waist with a double band. To it, a large, black bow is attached that reaches to the hem of the skirt.