Man's costum is different in every village of the island. We present the costum in Ogliastra:
"Sa Berritta" (black or red woollen cloth beret): is worn with the shade ahead or to the side.
Shirt: the white linen shirt, open at the front, wrinkled at the cuffs, sleeves and collar, hand-embroidered at the centre, to close the shirt both at the cuffs and at the collar, two gold buttons are used.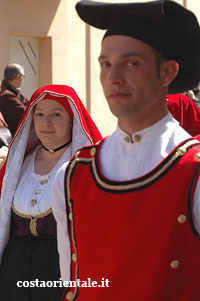 Waistcoat: a sleeveless vest and with a double line of buttons is worn over the shirt, close-fitting and double-breasted made of cheap material on the shoulders while the breast is made with velvet. It is thought that a similar item of clothing was worn by the ancient Greeks and Romans.
"Calzoni" (trousers): trousers of white linen, wide and loose tucked into the stockings or worn over naked legs, noted particularly as part of the costume of various parts of Ogliastra.
Belt: leather, of varying shapes, simple or embroidered, worn tightly and serves to hold up the "ragas".
"Ragas": short skirt of black woollen cloth, not particularly close-fitting, is made by folding and thickly wrinkling a rectangle of cloth.
Leggings: similar to long stockings, worn over the trousers so as to form a fold at the knees.
Shoes: leather ankle boots