Feasts, festivals and events: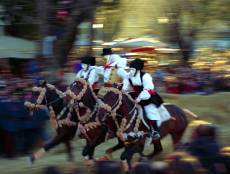 Sa Sartiglia (Oristano) - Monday and Tuesday of Carnival ...
In the Shrove Sunday and Tuesday and in the 15 of August, at Oristano takes place the old tradition of Sa Sartiglia, originated from a Spanish equestrian ability tournement lasted in the XVI Century and consisting in trying to stick the center of a star, hanging from a ribbon pulled from one side to the other of a street near the city's cathedral and high about 3 meters from the ground, with a sword, while riding a full gallop horse .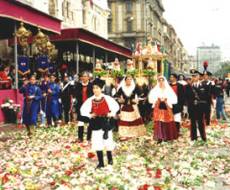 Sant'Efisio (Cagliari) - The 1st of May
This is the most important religious event in Sardinia to which a week of events is dedicated. Efisio, the Saint who saved the city from the plague in 1656, is celebrated. The religious celebrations start with the statue's exit from the church of the same name, accompanied by members of the Archconfraternity and Consorelle. After the dressing of the statue by the Consorelle, ceremonies take place, followed by the procession through the streets of Cagliari, in a carriage drawn by richly decorated oxen. After the procession, the statue goes on its pilgrimage to Pula, and it finishes in the small church of Sant' Efisio on Nora beach. The procession returns on the same route to carry the statue to the original site, in the church of the same name in the Stampace district.
S'ardia di San Costantino (Sedilo) 6-7 July in Sedilo (OR)
A unique horse race which is held every year in honour of San Costantino. The route around the Sanctuary is difficult and dangerous, and the race sometimes becomes extremely violent. The fury of the horses startled by the gun shots, the riders' courage, the stifling July heat, the dust and the multitude of people who crowd the place, make Ardia a very exciting and unforgettable experience.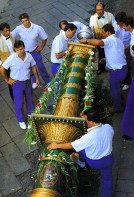 I Candelieri (Sassari) - 14 August
Charming parade (Sa Essida) of the three "candelieri" (huge church candles) from Nulvi, which are the symbol of the Shepherds' and Farmers' Guilds; its fascination remains the same after seven centuries.
Il Redentore (Nuoro) - 29 August
Traditional costumes, horses, traccas (decorated carts), handicrafts, folk traditions. There also is a tenor competition featuring ancient traditional Sardinian songs.